Excursion from Port
Vesuvius, Pompeii, Herculaneum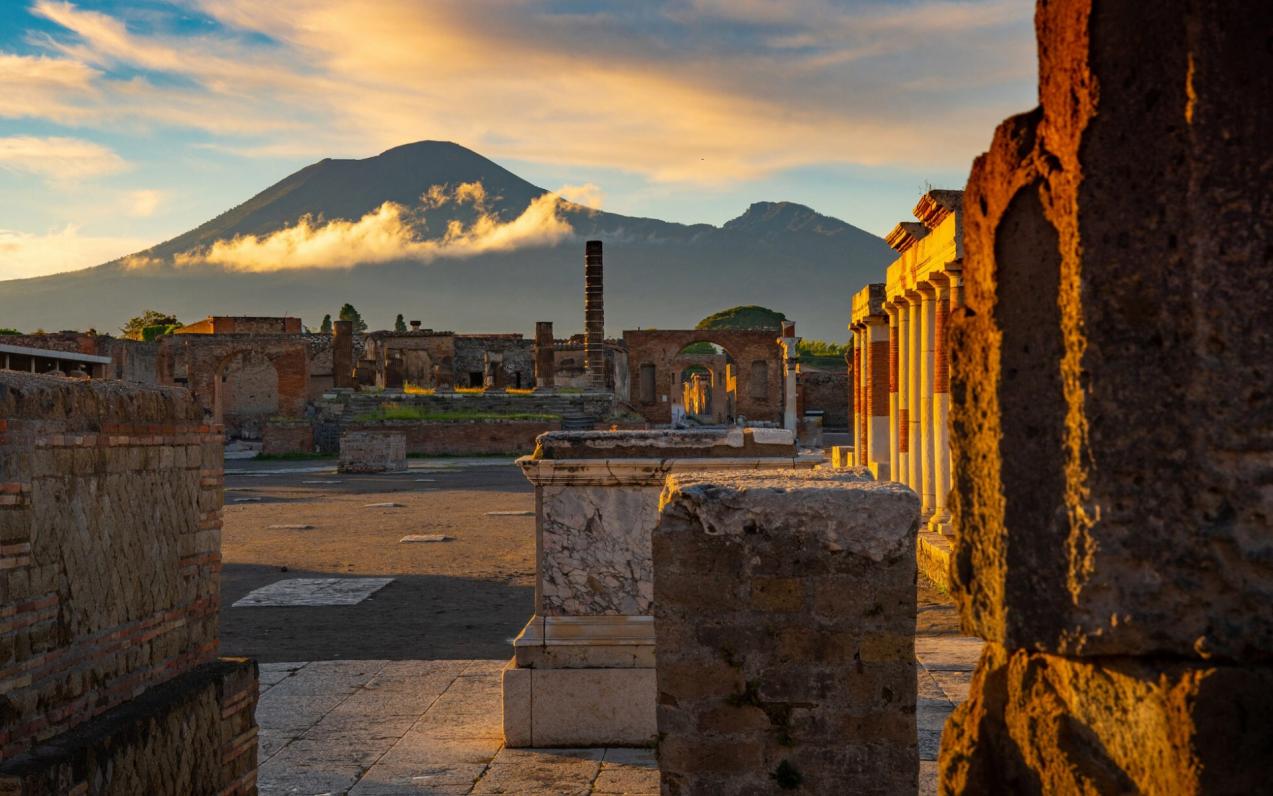 Overall Description
Pompeii
Filled with an abundance of history, this partially buried town offers marvelous scenery that one must personally see to believe. A must see site that will provide you with a rare and knowledgeable experience! 
This ancient ruin which was buried under meters of ash and pumice after the catastrophic eruption of Mount Vesuvius in 79A.D. Filled with an abundance of history, this partially buried town offers captivating scenery that one must personally see to believe. It is a must-see landmark that will provide you with a thoroughly unique experience. The licensed guide will provide you with ample historical information, showing you the highlights of the ruin. If you wish to hire or explore on your own.
Herculaneum
Herculaneum – named after one of the Roman mythological heroes, Hercules – was destroyed by the 79AD eruption of Mt. Vesuvius. The slow walk across all of Ercolano will allow you to observe the moulding of civilization into this remote town. Buried by the same eruption as Pompeii, it's now a marvellous historic site filled with an abundance of history and breathtaking views. Both these cities offer spectacular ruins, relics and interesting markings left behind by the people who did not survive the eruption.
Vesuvius
Despite its violent history of eruptions, Mount Vesuvius still offers a beautiful view of the surrounding area, which is a national park. Mt. Vesuvius' eruption in AD79 buried the cities of both Pompeii and Ercolano beneath ashes, mud and lava. It left extreme damage but immaculate artefacts that can be seen today. This is a wonderful trip up the stratovolcano, allowing tourists to absorb the natural scenery and history.
ITINERARY
Mt. Vesuvius: You will be going up to 3000 feet to see Naples and its suburbs. The driver will assist you in purchasing the tickets. Once bought, you can start your adventure climbing to the top of Mt Vesuvius. You will have roughly an hour and a half to explore this magnificent volcano. https://viaamalfi.com/destinations/vesuvius/

Pompeii: You will have roughly 2hrs to explore this ancient ruin. Lunch/snacks will be had in your own time and as this tour is time sensitive logistically, recommendations will be made by the driver guide.https://viaamalfi.com/destinations/pompeii/

Lunch will be discussed with the escort driver first thing in the morning. The escort driver will make recommendations/ suggestions. Reservations will be made if need so.

The final stop is Herculaneum, which you will have roughly 2 hours. https://viaamalfi.com/destinations/herculaneum/

The escort driver will return to the location pick up between the hours 4-5pm. Or otherwise agreed upon.
Pick up time: 8 am or as per your confirmation.
Return time: 4-5pm or as per your confirmation.
PLEASE BE AWARE THAT WE RESERVE ALL RIGHTS TO CHANGE THE ORDER OF ITINERARY. IF NECESSARY AT OUR DISCRETION DUE TO NATURAL CAUSES(ENVIRONMENTAL) OR POLITICAL REASONS(STRIKE/PROTEST)
Transportation
One of our professional, knowledgeable English speaking driver guides will be waiting at pick up location (where you will be tendered) or location agreed at 8 am, or according to the agreed time. Your driver will be holding a sign with your or your party's name on it.
Ports (Pick up is normally 8am or otherwise agreed upon)
Our escort driver will be waiting at the gangway of your cruise ship or outside the cruise ship terminal. The escort driver will be holding up a sign with the group's name on it. The email that accompanies the voucher you receive at the time of booking will indicate the meeting point for each specific port. We recommend that you meet onboard before exiting the ship. This way you are all together when meeting your escort driver and the tour can commence much more efficiently. Otherwise, the wait time for others will be 20minutes, after which time the tour will proceed.
Itinerary
Pompei
Ercolano Scavi
Vesuvio
Pompei
Pompei, NA, Italia
Ercolano Scavi
Ercolano Scavi, Ercolano, NA, Italia
Vesuvio
Vesuvio, Ottaviano, NA, Italia
What's Included
Luxury air conditioned vehicle
A private driver or escort guide
Parking
Highway tolls
Fuel
All taxes and driver maintenance
Not Included
Meals, drinks (€20-€45 depending menu order)
Pompeii (Admission fee E15pp),admission fees to Pompeii (children younger than 18 years old enter free showing a valid ID (passport/citizenship/driver's license)
Admission fee Mt. Vesuvius(€11)
Admission fee Herculaneum(€15)
Admission to Pompeii(€15)
Gratuities range between 10-20 percent|(optional but appreciated)
No guide
Can arrange a guide for Pompeii and Herculaneum the cost of €240 or for one site for 2hrs for the cost of €120
Additional Information
For groups of more than 8 people from Naples, Sorrento, Amalfi, Salerno we can either provide a Mercedes Sprinter minibus or multiple luxury minivans. This will depend on availability. With a minibus, you will be dropped further from the destination and you will have to walk ted location.