Excursion from Port
Positano, Sorrento, Pompeii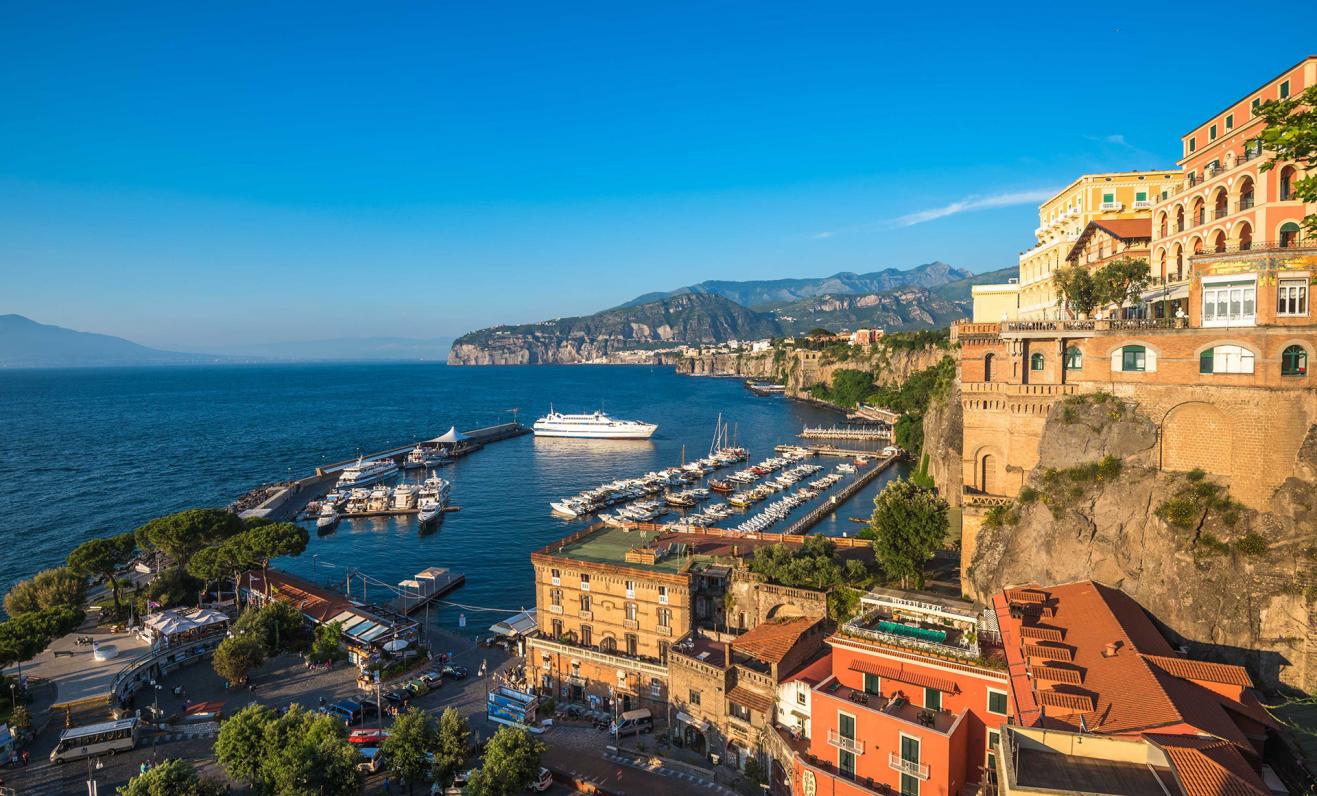 Overall Description
Sorrento
Sorrento is a small, quaint, and relaxed town in Campania, Southern Italy. Here you will have time to explore the town and walk along the narrow streets that lead to many homes, restaurants, family-owned shops, taverns, villas, hotels and, most importantly, unforgettable scenery. Overlooking the Bay of Naples, the waterfront is captivating and relaxing. This town is an extremely popular tourist attraction that has a lot to offer, from delicious food to wonderful views. Sorrento is full of intriguing architecture, churches, leather factories, limoncello factories and inlaid woodwork shops. From here you will stop to enjoy some of the finest culinary spots Sorrento has to offer. You will have a wide variety of food to choose from such as meat, fish and true Neapolitan pizza cooked in an ethnic brick oven, along with salads, seafood, vegetables, desserts, wine and various drinks.
Pompeii
Filled with an abundance of history, this partially buried town offers marvelous scenery that one must personally see to believe. A must see site that will provide you with a rare and knowledgeable experience! 
This ancient ruin which was buried under meters of ash and pumice after the catastrophic eruption of Mount Vesuvius in 79A.D. Filled with an abundance of history, this partially buried town offers captivating scenery that one must personally see to believe. It is a must-see landmark that will provide you with a thoroughly unique experience. The licensed guide will provide you with ample historical information, showing you the highlights of the ruin. If you wish to hire or explore on your own.
Positano
Italy is known for many things, but perhaps one of its most dominating features as a culture-oriented country is the marvelous and undeniably stunning colors embedded within the eccentric walls and quaint towns. Positano offers exactly that – warm, hospitable houses clinging to cliffs which are visually spectacular. It is a perfect place for sightseeing, shopping, or just taking in the pleasant scenery. Known to be the jewel of the Amalfi Coast, Positano is guaranteed to present you with a warm, genuine and authentic Italian experience. The driver will reach the furthest part of the town which is accessible by vehicle, at which time you will walk through the narrow streets and alleys. Here you will see various local arts and crafts, galleries and a bougainvillaea flower shelter which will lead you to the beach. Here you can take a stroll along the boardwalk. Many celebrities are known to vacation here, so it could be your lucky day!
ITINERARY
This itinerary is from the starting point of the destination ports. The drive from the port to Positano will take about an hour and a half. You will have about 45-50 minutes to explore. From here we embark on a beautiful 35-minute drive to Sorrento. 
Sorrento: You will have about 45-50 minutes to explore this historical centre. From here we will stop to enjoy some of the finest culinary spots Sorrento has to offer. The drive will be 5-10 minutes.

Pompeii: You will have 2 hours to explore this ancient ruin. Once done, we head back to the  pick up location- a journey which will take approximately 30 minutes.

Back to the pick up location between the hrs. of 4-5pm or otherwise stated upon agreement.

Important Note Regarding itinerary
If the starting point is from Sorrento Area, Amalfi Area, or Salerno Area-the itinerary is as follows: Pompeii-Positano/Lunch-Sorrento. Time allocation is the same. 
Pick up time: 8 am or as per your confirmation.
Return time: 4-5pm or as per your confirmation.
PLEASE BE AWARE THAT WE RESERVE ALL RIGHTS TO CHANGE THE ORDER OF ITINERARY. IF NECESSARY AT OUR DISCRETION DUE TO NATURAL CAUSES(ENVIRONMENTAL) OR POLITICAL REASONS(STRIKE/PROTEST)
Transportation
One of our professional, knowledgeable English speaking driver guides will be waiting at pick up location (where you will be tendered) or location agreed at 8 am, or according to the agreed time. Your driver will be holding a sign with your or your party's name on it.
Ports (Pick up is normally 8am or otherwise agreed upon)
Our escort driver will be waiting at the gangway of your cruise ship or outside the cruise ship terminal. The escort driver will be holding up a sign with the group's name on it. The email that accompanies the voucher you receive at the time of booking will indicate the meeting point for each specific port. We recommend that you meet onboard before exiting the ship. This way you are all together when meeting your escort driver and the tour can commence much more efficiently. Otherwise, the wait time for others will be 20minutes, after which time the tour will proceed.
Itinerary
Positano
Positano, SA, Italia
Sorrento
Sorrento, NA, Italia
Pompei
Pompei, NA, Italia
What's Included
Luxury air conditioned vehicle
A private driver or escort guide
Parking
Highway tolls
Fuel
All taxes and driver maintenance
Not Included
Admission fees to Pompeii (children younger than 18 years old enter free showing a valid ID (passport/citizenship/driver's license)
No guide. Can arrange a 2hr guide for Pompeii for the cost of €150 . We recommend a guide. As a guide can provide ample historical information.
Meals, drinks
Gratuities range between 10-20 percent (optional but appreciated)
Additional Information
For groups of more than 8 people from Naples, Sorrento, Amalfi, Salerno we can either provide a Mercedes Sprinter minibus or multiple luxury vans. This will depend on availability. With a minibus, you will be dropped further from the destination and you will have to walk to the location.