Excursion from Port
Palermo and Monreale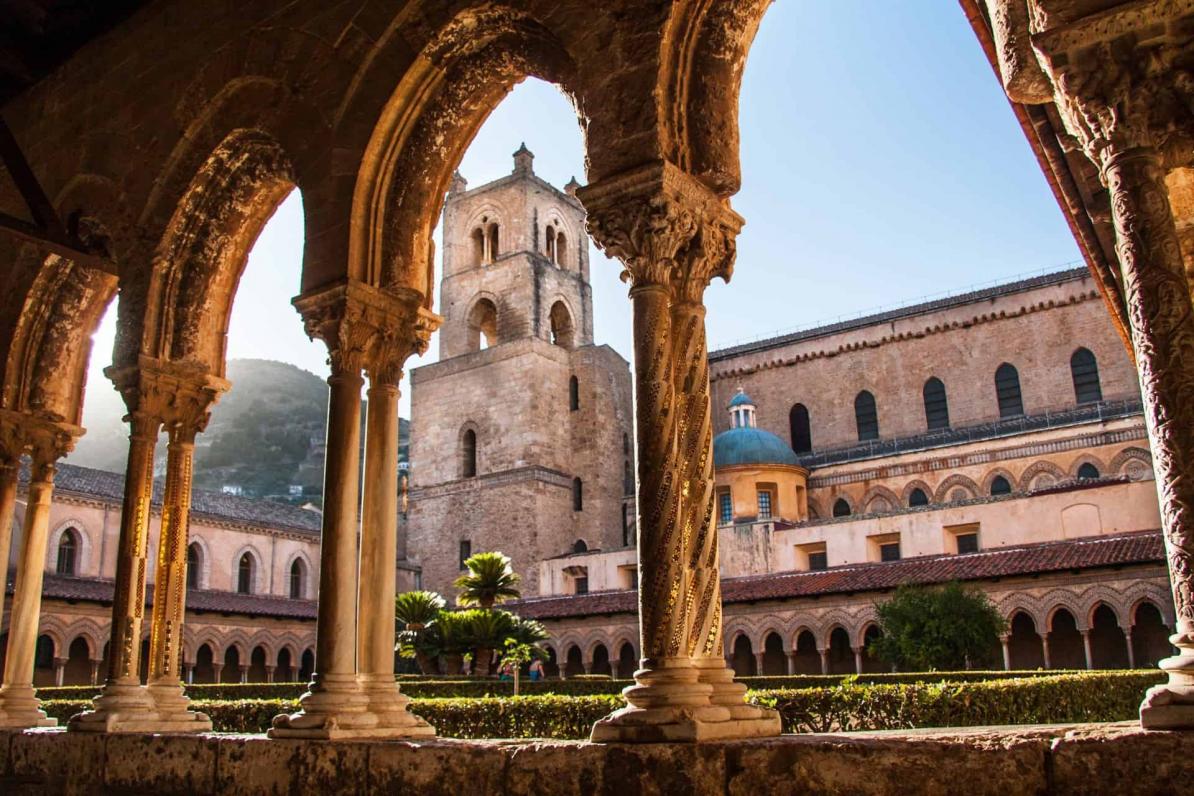 Overall Description
ITINERARY
Once you are all together, you will proceed with your tour. Shortly after disembarking, a warm greeting will be granted by your driver. Shortly after being greeted by your driver, you will move to Palermo's awe-inspiring Cathedral full of the tombs of kings and queens of Sicily. As you continue, you will then reach the Palazzo dei Normanni, known as the royal palace. This palace being the home of the impressive Palatine Chapel full of golden inscribed mosaics made for King Roger II of Sicily (1132). As you leave the Chapel, you will drive to the hill bound Monreale past Palermo to see the Cathedral in Monreale. This cathedral being known as one of the most brilliant churches in the world, along with its importance as a Norman building in Sicily. Inside an unimaginable set of mosaics scatter the room, describing the whole Bible, made out of 2, 200kg of pure gold for William II (1182). The chapel nearby having a visually complex and eye-catching cloister with 228 customly carved columns. Time then will be left for shopping around the beautiful surroundings before returning to your ship.

End of the tour
Departure: Around 4.00 pm we will start the drive back to the port to be back on time around 5.30 pm.
Pick up time: 8 am or as for your confirmation.

Return time: 4-5pm or as for your confirmation.
PLEASE BE AWARE THAT WE RESERVE ALL RIGHTS TO CHANGE THE ORDER OF ITINERARY. IF NECESSARY AT OUR DISCRETION DUE TO NATURAL CAUSES (ENVIRONMENTAL) OR POLITICAL REASONS (STRIKE / PROTEST)
Please note that each additional hour is at the cost of E50.
Transportation
One of our professional, knowledgeable English speaking driver guides will be waiting at pick up location (where you will be tendered) or agreed location at 8 am, or according to the agreed time. Your driver will be holding a sign with your or your party's name on it.
Port (Pick up is normally 8am or otherwise agreed upon)




Our escort driver will be waiting at the gangway of your cruise ship or outside the cruise ship terminal.

The escort driver will be holding up a sign with the group's name on it.

The email that accompanies the voucher you receive at the time of booking will indicate the meeting point for each specific port.

We recommend that you meet onboard before exiting the ship.

This way you are all together when meeting your escort driver and the tour can commence much more efficiently.

Otherwise, the wait time for others will be 20minutes, after which time the tour will proceed.
Itinerary
Palermo
Palermo, PA, Italia
Monreale
Monreale, PA, Italia
What's Included
Full day 9 hours tour
Round-trip transportation from/to the port
Comfortable air conditioning vehicle
Professional tour guide-driver
English speaking driver
Free Wi-Fi on board
Free water on board
Fuel, tolls and taxes
Not Included
Gratuities ranging between 10-20 percent(optional but appreciated)
No admission to any sites
Catacombs € 3,00 –
Monreale Terrace € 3,00 –
Palatin Chapel € 12,00 per person
Walking guide
Meals and drinks
Gratuities