Excursion from Port
Cinque Terre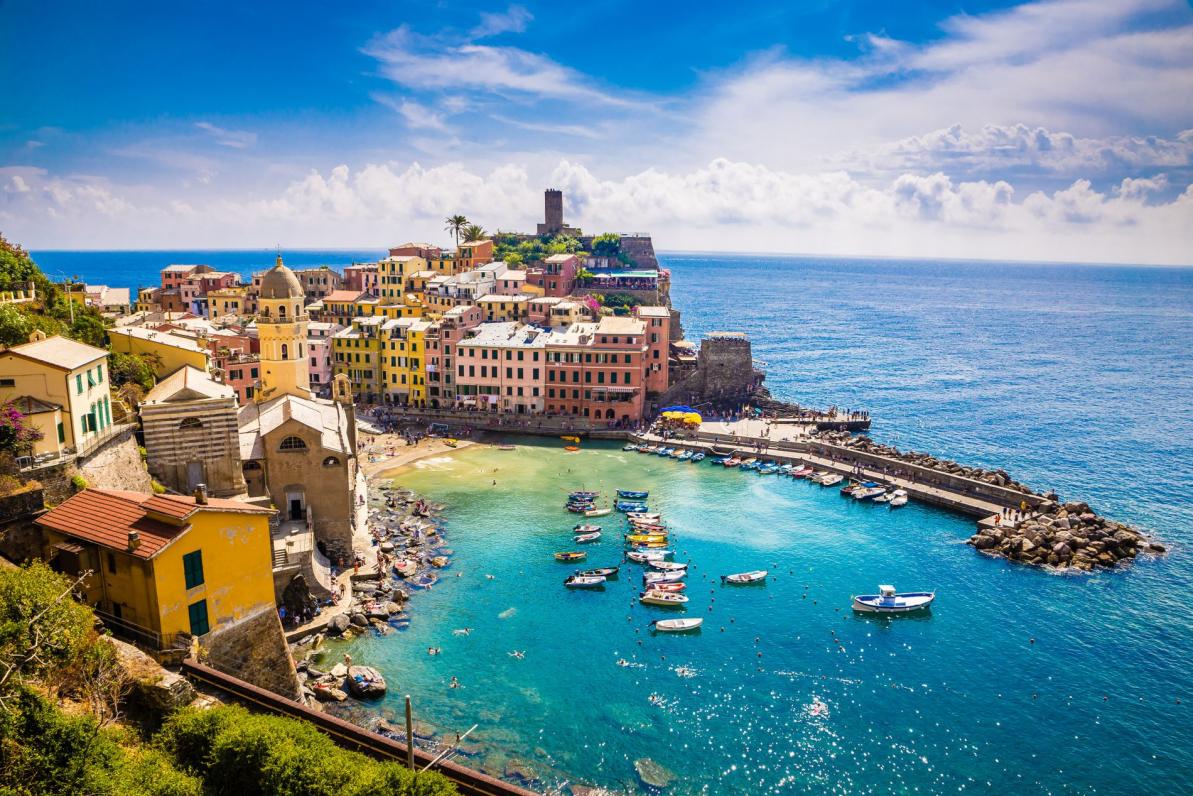 Overall Description
Cinque Terre
Cinque Terre is a string of centuries-old seaside villages on the rugged Italian Riviera coastline. In each of the 5 towns, they are filled with colorful houses and vineyards that cling to steep terraces, harbors are filled with fishing boats and family owned restaurants turn out seafood specialties along with the Liguria region's famous sauce and pesto. Many hiking trails links the villages and offers sweeping sea views.
ITINERARY
The Cinque Terre National Park is located in the region of Liguria. A colorful architecture by the sea, surrounded by terraces with vineyard and olive grooves, excellent food, birthplace of the famous Pesto sauce and definitely romantic and peaceful. Once pickedup, proceed to Riomaggiore where the adventure starts. Information will be provided in how to visit the National park and the escort driver will explain how to enjoy each village. Driving from one village to the other along the scenic coastal route, you will have approximately 1 hour to visit each village. The drive will provide breathtaking views and you will also have time to take a picture of the Cinque Terre from the top of the cliffs. It is very important that you would wear comfortable shoes as the paths are steep and somewhat uneven.

NOTE: It is also possible to visit the 5th village, Monterosso al Mare, only in addition to our option with "Private Walking Guide". The coastal road that connects the 4 villages with the 5th was closed a few years ago due to a landslide, as a result of this, it is possible to reach it only by boat or train, as by car is very far and will cause a large waste of time.

Options
PHOTO STOP IN PISA (LEANING TOWER): We offer the possibility to stop in PISA for a picture of the World famous LEANING TOWER. This stop is possible skipping one village in the Cinque Terre National Park, you will then visit 3 villages instead of 4. There is no additional cost.
PRIVATE WALKING GUIDE: If you wish a professional walking guide to lead you from village to village (by foot), explaining the history and traditions of the area and helping you enjoy the best parts of this amazing national park, we highly recommend you this option . The cost for 3 hours is 210 Euros / 5 hours is 280 Euros / 7 hours is 350 Euros, to be added to the tour price. Notes: Ferry or train tickets must be purchased on site; cost not included.

End of the tour
Back to pick up location between 4-5pm.
Pick up time: 8 am or as for your confirmation.

Return time: 4-5pm or as for your confirmation.
PLEASE BE AWARE THAT WE RESERVE ALL RIGHTS TO CHANGE THE ORDER OF ITINERARY. IF NECESSARY AT OUR DISCRETION DUE TO NATURAL CAUSES (ENVIRONMENTAL) OR POLITICAL REASONS (STRIKE / PROTEST)
Each additional hour is at the cost of E70.
Transportation
One of our professional, knowledgeable English speaking driver guides will be waiting at pick up location (where you will be tendered) or agreed location at 8 am, or according to the agreed time. Your driver will be holding a sign with your or your party's name on it.
Ports (Pick up is normally 8am or otherwise agreed upon)




Our escort driver will be waiting at the gangway of your cruise ship or outside the cruise ship terminal. The escort driver will be holding up a sign with the group's name on it. The email that accompanies the voucher you receive at the time of booking will indicate the meeting point for each specific port. We recommend that you meet onboard before exiting the ship. This way you are all together when meeting your escort driver and the tour can commence much more efficiently. Otherwise, the wait time for others will be 20minutes, after which time the tour will proceed.

Airport
The escort driver will be waiting at the arrival lobby holding a sign with the name in which the reservation was made under or otherwise stated.

Hotel
Escort driver will be waiting at the lobby of the hotel. Normally pick up is 8:30 am or otherwise stated.

Resident / B & B
The escort driver will be waiting outside the main doors of the building.
Itinerary
Cinque Terre
Cinque Terre, SP, Italia
What's Included
Luxury, private air-conditioned vehicle.
English-speaking driver or escort guide.
Parking, highway tolls, fuel, all taxes and driver maintenance included.
Round trip transportation from/to the port/ship
Comfortable air conditioning minivan
Professional tour guide-driver
Visit of 4 of the Cinque Terre villages
Drive from Riomaggiore to Manarola
Drive from Manarola to Corniglia
Drive from Corniglia to Vernazza
Free Wi-Fi on board
Free water on board
Not Included
Lunch can range from €10-€40-You will have time to explore the famous historical sites, have lunch in a traditional local restaurant, and shop along the chic shopping Boulevards consisting of store specializing in fine leather and jewelry
Gratuities ranging between 10-20 percent(optional but appreciated)
No admission to any sites
Walking guide
Boat or Train tickets
3hr guided tour cost €210
Additional Information
For groups of more than 8 people from Livorno port and La Spezia Port we only provide multiple minivans with the maximum number of 8 people in each minivan. This is because minibuses are prohibited from entering the town center. Therefore, a waste of time will incur walking to the destinations, by minivans you will get to your destination directly without wasting time.
Reviews for this Luxury Experience