Excursion from Port
Walking Tour CAPRI AND ANACAPRI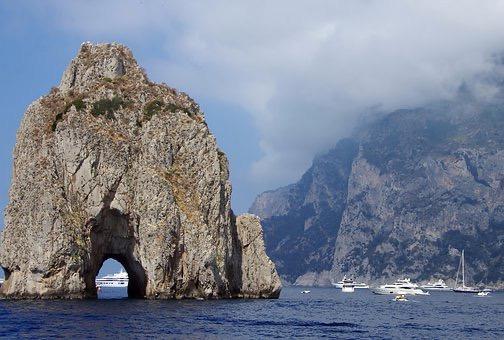 Overall Description
Get ready to see the island of Capri from the eyes of a local archeologist, explore incredible hidden spots full of history and heritage, who made this island the most famous in the world. Your guide will show you places like the Gardens of Augusto, the botanic garden of the island, the villa of San Michele, a stunning villa built on the ruins of the "Domus Romane", the famous "Piazzetta of Capri" and then the historical center of the island, Anacapri. Stop at colorful and stunning spots for pictures, to leave you at the end of the day not only with a wider knowledge about Capri but also with your heart full of memories!
ITINERARY
An escort driver will be picking you / group up at the designated area agreed upon with your name on a sign if you are being picked up from a port or train station. Train station escort driver will be waiting at the end of the platform upon your arrival holding a sign with your name on it. Please make sure that you provide the name and number of the train you will be arriving with. Once you all meet up you will then proceed to Naples. You will have up to 4hrs to explore with your guide. The guide will provide ample historical information. Visiting some of the most important areas and buildings surviving since WWII.
Proceed to the port to pick up the hydrofoil to Capri
You will be driven to the port where the purchase the hydrofoil tickets will be done Then proceed to Capri. While on the hydrofoil you will have some great views of the coast. Great pictures can be taken. From Sorrento Port to Capri the time is about 25 minutes. As from Naples port to Capri roughly 50 minutes. The walking guide for Capri will be waiting at Marina di Capri Port.

Reconvene at the port of Capri
Return to Marina di Capri Port at 3pm. The jetfoil will take fifty minutes to Naples Port or 25 minutes to Sorrento Port (which is applicable). This will offer you once again to glimpse the coast of Capri. Take great photos.After arriving at the port, if applicable you will walk back to the ship. Or an escort driver will be waiting to take you back to your address of pick up or where indicated.
Pick up time: 7:45 am or as for your confirmation.
Return time: 4-5 pm or as for your confirmation.
PLEASE BE AWARE THAT WE RESERVE ALL RIGHTS TO CHANGE THE ORDER OF ITINERARY. IF NECESSARY AT OUR DISCRETION DUE TO NATURAL CAUSES (ENVIRONMENTAL) OR POLITICAL REASONS (STRIKE / PROTEST)
Transportation
One of our professional, knowledgeable English speaking driver guides will be waiting at a pickup location agreed upon through email (ie Naples / Salerno / Sorrento / Amalfi / train station / hotel / private resident) at 8 am, or according to the agreed time . Your driver will be holding a sign with your or your party's name on it (port, train station) where applicable. As for the hotel, the driver will be waiting in the lobby and at a private residence outside the main doors if no lobby is available. Pick up normally recommended for 8:30 am.
Ports (Pick up is normally 8am or otherwise agreed upon)
Our escort driver will be waiting at the gangway of your cruise ship or outside the cruise ship terminal. The escort driver will be holding up a sign with the group's name on it. The email that accompanies the voucher you receive at the time of booking will indicate the meeting point for each specific port. We recommend that you meet onboard before exiting the ship. This way you are all together when meeting your escort driver and the tour can commence much more efficiently. Otherwise, the wait time for others will be 20minutes, after which time the tour will proceed.
What's Included
Passenger Insurance
Sanitizer in vehicle
Sanitizing vehicle
4 Hours Guided tour of Capri
Transportation on the island
Gardens of Augusto ticket
Not Included
Lunch/drinks (€20-45 Euros pp depending on where you choose to eat and menu selection)
Villa San Michele's ticket
Round trip tickets jet-foil
Gratuities
Additional Information
For groups of more than 8 people from Naples, Sorrento, Amalfi, Salerno we can either provide a Mercedes Sprinter minibus or multiple luxury minivans. This will depend on availability. With a minibus, you will be dropped further from the destination and you will have to walk ted location.