Excursion from Port
Trekking Tour "The Path of the Gods" + Round Trip Transfer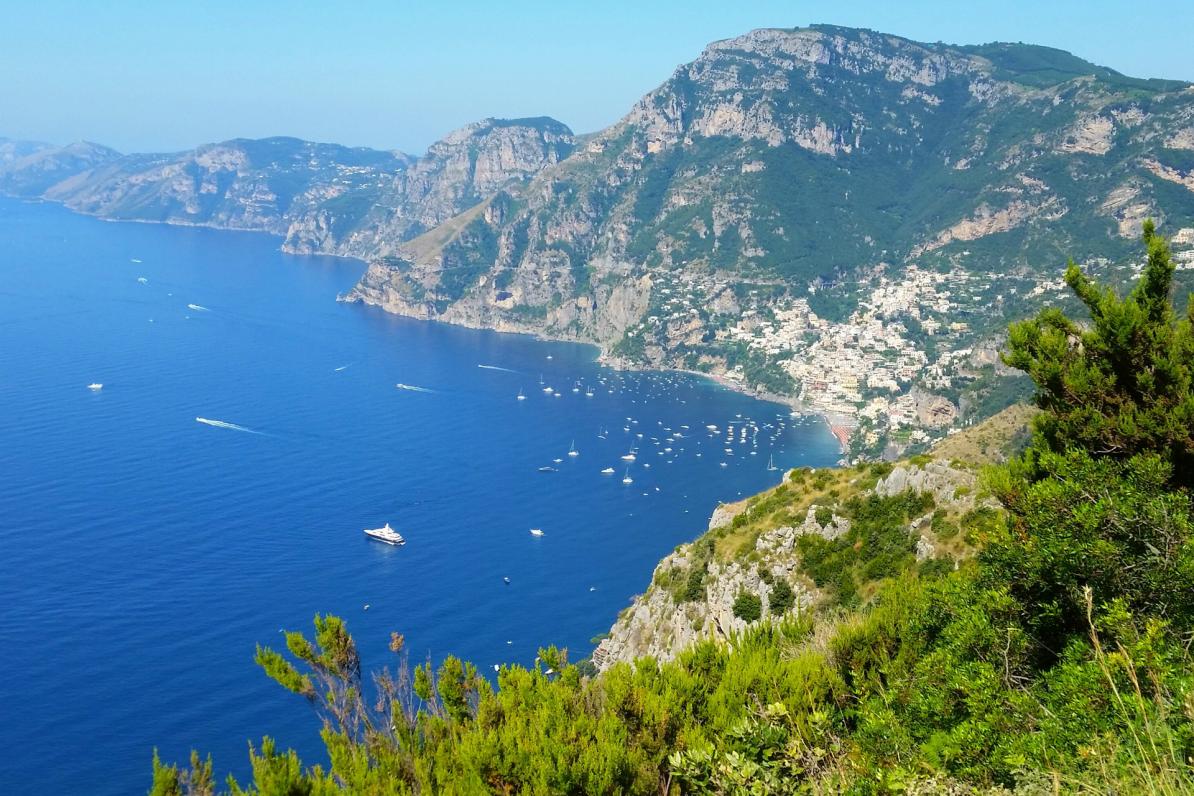 Overall Description
Trekking ``The paths of the Gods``
For lovers of hiking and walking outdoors, the Path of the Gods on the Amalfi Coast is a  must see and experience. Your holiday on the Amalfi Coast cannot be considered complete without an excursion on the Path of the Gods, from Agerola to Positano. This most popular trekking route is pretty easy with a duration of approximately 5 hours and a drop of 600 meters downhill.  Please note those who suffer from vertigo may have some difficulties, please take proper precautions if you wish to participate in this tour.
ITINERARY
Starting point from Agerola, Bomerano (hamlet,) in Piazza Capasso.
You will meet your trekking guide at 9am.  At this point you will be provided the poles. The tour is 3-5hours long one way. It was named the  Path of the Gods not without reasons. It offers a fabulous view on coastal and mountain landscapes from Positano to Capri. Walking about 500m above the sea level between rocky passages Mediterranean vegetation, forests of oaks and terraces made on steep slopes. The first site to visit along this nature trail, coming from Bomerano, is the Grotta del Biscotto(cave of the biscuit) (at 524 meters above sea level), named after its geologic conformation, similar to the shape of a biscuit bread (typical product of Agerola). As well the craggy surface of the rock resembles the local specialty biscotto. Biscotto is a hard small bread that is baked twice, so that it dries out and lasts for an entire year. Then it is soaked in water and eaten, usually in a soup or part of a salad. Your itinerary will consist of the following: 1.Grotto Del Biscotto 2.Colli Serra 3.Casolare 4.Nocelle

Colli Serra
The pass of Colle Serra, situated at 578 meters above sea level, halfway point, reachable also from Praiano, but in this case walking back towards Bomerano, is where the "pinnacolo" is located. This is where a memorial tablet has been placed to remember Giustino Fortunato, who gave the name to this trail. The surroundings are a continuous blooming of the Mediterranean bush, a mixture of chestnut trees, holm oaks, alders and corbezzolo trees. With some luck it is possible to catch sight of one of the peregrine hawks that live here.

Picnic lunch organized by your guide.
Nocelle
The last stretch is a path rich of uphills and downhills that end up in the district of Nocelle (420 meters above sea level), a small rural village.
At Nocelle is where you will meet once again your driver. You will be brought back to your pick up location. Return time is between 4-5pm.
Important Note
Anyone who suffers from vertigo, heart condition, asthma may find this walk challenging. Please let the guide with any medical conditions.
Pick up time: 8:00am or as per confirmation
Return time: 4pm-5pm or as per confirmation
Transportation
One of our professional, knowledgeable English speaking driver guides will be waiting at pick up location (where you will be tendered) or location agreed at 8 am, or according to the agreed time. Your driver will be holding a sign with your or your party's name on it.
Ports (Pick up is normally 8am or otherwise agreed upon)
Our escort driver will be waiting at the gangway of your cruise ship or outside the cruise ship terminal. The escort driver will be holding up a sign with the group's name on it. The email that accompanies the voucher you receive at the time of booking will indicate the meeting point for each specific port. We recommend that you meet onboard before exiting the ship. This way you are all together when meeting your escort driver and the tour can commence much more efficiently. Otherwise, the wait time for others will be 20minutes, after which time the tour will proceed.
Itinerary
Sentiero degli Dei
Path of Gods, Agerola, SA, Italia
What's Included
Luxury, private air-conditioned vehicle(transfer)
English-speaking driver (Beginner-Intermediate)
Parking, highway tolls, fuel, all taxes and driver maintenance included.
Polls are supplied
Trekking guide for 3-5hrs
Not Included
Gratuities range between 10-20 percent (optional but appreciated)
Lunch/food/beverages
Each person will need the following items to make the excursion safe and enjoyable: closed shoes suitable for walking(i.e. sneakers or trainers, hiking boots), comfortable clothing for the walk, water, sunhat and sunscreen
Additional Information
For groups of more than 8 people from Naples, Sorrento, Amalfi, Salerno we can either provide a Mercedes Sprinter minibus or multiple luxury minivans.