Excursion from Port
Heritage Farmhouse Cooking Class at La Tagliata in Positano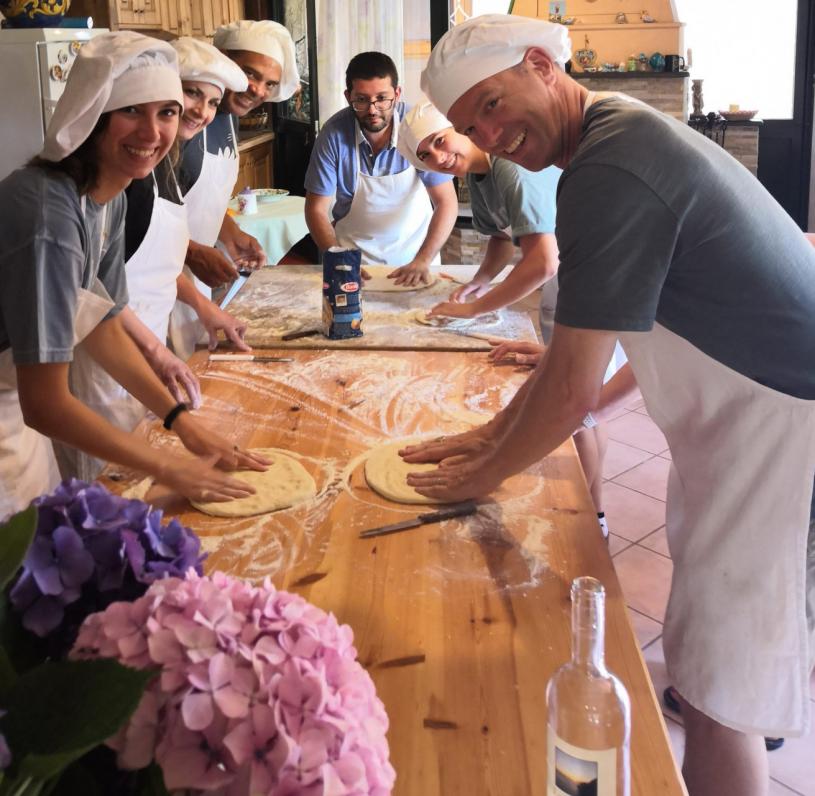 Overall Description
f you are looking for an authentic Italian experience and love food. Heritage Farmhouse Cooking Class in Positano is the tour for you. This an intimate, unique and interactive cooking experience with Mamma and her family. You will learn how to cook like a homesteader in this heritage cooking lesson. You will be preparing a menu with Mamma using fresh, local ingredients, paired with local homemade wine. Your choice of red, white or both!                                                                                                                                                                                                            
PLEASE NOTE THAT THIS TOUR IS AN EXCLUSIVE PARTNERSHIP BETWEEN LA TAGALIATA AND VIA SEE AMALFI COAST.
The menu includes the following:

-Bruschetta

-Potatoes Dumplings

-Tomatoe Sauce

-Potatoes Crunches

-Eggplant Parmiggiana

-Desert: Tirmamisu

-Wine, Soft drinks, water

ITINERARY
Pick up location varies (Naples Area, Port, Train station, B&B, Private residence: You will be picked up at 8am.
The escort driver will return to the location pick up between the hours 3-4pm. Or otherwise agreed upon.

If time permits we can do a stop or two for photo taking of the magnificent Amalfi Coast.

Arrive at La Tagliata at 11am. Meet Mamma and family.

Start preparing and cooking.

Once done with all the cooking. While food is cooking. Prepare lunch table on the terrace. The view from La Tagliata is absolutely to die for. It is built on 3 terraces respecting the environment in which it is situated. On each terrace are organic vegetable gardens. On another level you have panoramic view of Positano, the Galli isles and Capri below. It is a must see site!

Once done which will be roughly 2pm. We head back to the pick up location or otherwises agreed upon.

Arrival between 3-4pm

Pick up time: 8 am or as for your confirmation.
Return time: 3-4pm or as for your confirmation.
Transportation
One of our professional, knowledgeable English speaking driver guides will be waiting at pick up location (where you will be tendered) or location agreed at 8 am, or according to the agreed time. Your driver will be holding a sign with your or your party's name on it.

Ports (Pick up is normally 8am or otherwise agreed upon)
Our escort driver will be waiting at the gangway of your cruise ship or outside the cruise ship terminal. The escort driver will be holding up a sign with the group's name on it. The email that accompanies the voucher you receive at the time of booking will indicate the meeting point for each specific port. We recommend that you meet onboard before exiting the ship. This way you are all together when meeting your escort driver and the tour can commence much more efficiently. Otherwise, the wait time for others will be 20minutes, after which time the tour will proceed. If pick up is from Sorrento. You will be tendered to the port.The driver will be waiting with a sign in which your name will be on it.
Itinerary
Metropolitan City of Naples
Positano
Metropolitan City of Naples
Naples, Italy
Positano
Positano, SA, Italy
What's Included
Luxury private air-conditioned vehicle
English-speaking driver or escort guide.
Parking highway tolls
Fuel and insurance fee
22% of Italian sale tax
Farm table lunch
Passenger Insurance
Not Included
Gratuities range 10-20 percent(optional but appreciated)
Admission fees if applicable
Additional Information
For groups of more than 8 people from Naples, Sorrento, Amalfi, Salerno we can either provide a Mercedes Sprinter minibus or multiple luxury minivans. This will depend on availability. With a minibus, you will be dropped further from the destination and you will have to walk ted location.