Excursion from Port
Florence Highlights from La Spezia Port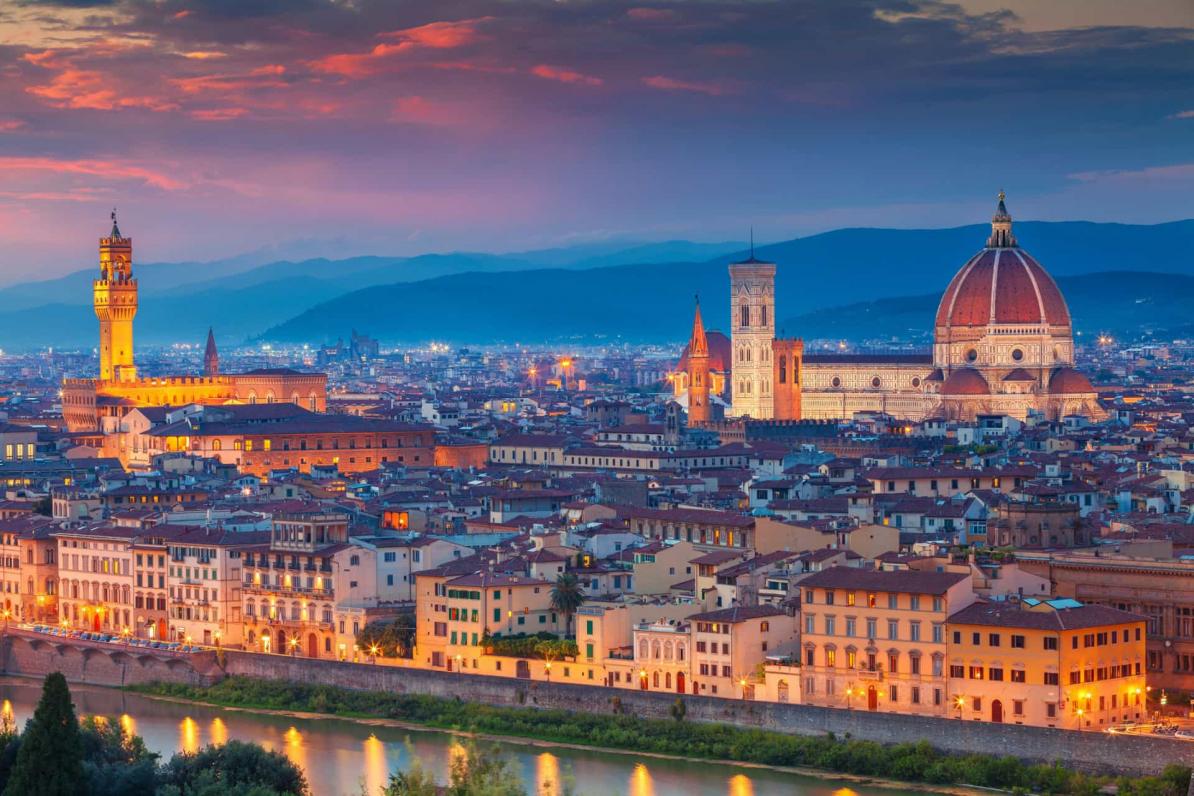 Overall Description
Florence
Florence is the capital city of the Tuscany region and is one of the most beautiful, colorful, romantic and culturally rich cities in Italy. Florence is renowned for its vast museums which contain some of Michelangelo's most famous works. Located in the beautiful Renaissance-influenced Tuscany, both Florence and Pisa offer spectacular sights. In Pisa stands the famous Leaning Tower of Pisa, located in the Piazza del Duomo, where medieval art is picturesque and plentiful.
Many churches, such as St. Francis and San Nicola, are situated in Pisa. Florence, also known as the Cradle of Renaissance, houses many known artefacts and monuments such as the Santa Maria del Fiore, Ponte Vecchio, and Michaelangelo's original masterpiece Statue of David. Both are stunning cities that hold history and culture within their ancient stones. The surrounding Tuscan countryside was the inspiration for many Florentine masterpieces, the enduring beauty of the richness of its treasures and their robustness of its cuisine. The city is located 1.5 hours away from the port of Livorno.
Prior to arriving in Florence, stop in the Piazzale Michelangelo and admire one of the most impressive views of the city, nestled in the Arno valley and surrounded by the Chianti hills to the south and the Fiesole hills to the north. Also view the Monuments of Michelangelo (1875) with a bronze reproduction of the four statues depicting Day, Night, Dawn and Dusk, dominated by the Statue of David, which is located in the Academia Museum in the heart of Florence. The driver will then continue driving towards the center of Florence and stop at an agreed location. You will have time to explore the famous historical sites, have lunch in a traditional local restaurant and walk along the sleek shopping boulevards consisting of stores specializing in fine leather and jewelery.
ITINERARY
You will spend a full day exploring one of our most beautiful Tuscan cities. Your private driver / guide will take you through the rolling hills of Tuscany, while entertaining you with the history of the area and providing information on the magnificent city of Florence, a city that is unique, charming and full of history, art, and beautiful architecture. You will travel directly from La Spezia Port through the rolling hills of Tuscany, passing famous marble quarries and vineyards lined with olive groves. On arriving in Florence, your private driver will stop first at Michelangelo's Square, a perfect spot to get an overview of this ancient and fascinating city. Then you will drive to the heart of the city, with your first stop in Santa Croce Square, home of the Santa Croce Basilica which houses the tombs of many of Italy's greatest minds, including Galileo, Michelangelo, Machiavelli, and Dante. You will also visit Cathedral Square, Republic Square, Signoria Square, the famous Ponte Vecchio Bridge, and more. This private shore excursion offers a full day of amazing sights, along with free time to shop, enjoy lunch and wander the open market. Allow Limo service in Italy to give you the personal attention you deserve, and a memorable day in Florence!
Drive through Tuscan hills to Florence

Visit to Florence including stops at:




- Michelangelo's Square




- Santa Croce Square




- Free time for shopping and lunch




- Cathedral Square with Giotto's Bell Tower and Baptistry




- Republic Square and Via Roma




- Free time to shop in Market, Fashion Stores, and sightseeing




- Signoria Square and Old Palace, with Michelangelo's David Replica and Old Palace




- Ponte Vecchio Bridge

Return to Port of La Spezia by 5:30 pm / 6:00 pm
Optional
WALKING GUIDE: We offer a private, licensed walking guide in Florence to escort you through the city while giving you additional information on the many incredible historical monuments located in this beautiful city. The cost for a three-hour private tour is 200 Euros to be paid only in cash to the driver at the end of the tour. Note: Admission fees to various monuments will be purchased on site; cost not included.

Optional
IMICHELANGELO'S DAVID MUSEUM: We can reserve "fast track" tickets for this museum at no extra charge. Tickets will have to be paid directly on spot.

Optional
UFFIZI GALLERY: We can reserve "fast track" tickets for this museum at no extra charge. Tickets will have to be paid directly on spot.
Pick up time: 8 am or as for your confirmation.

Return time: 4-5pm or as for your confirmation.
PLEASE BE AWARE THAT WE RESERVE ALL RIGHTS TO CHANGE THE ORDER OF ITINERARY. IF NECESSARY AT OUR DISCRETION DUE TO NATURAL CAUSES (ENVIRONMENTAL) OR POLITICAL REASONS (STRIKE / PROTEST)
Each additional hour is at the cost of E50.
Transportation
One of our professional, knowledgeable English speaking driver guides will be at the gangway of the port at 8am with your name on a sign. Please note you will need to take a complimentary shuttle bus (do not take the shuttle bus going to the city. You want the one to La Spezia) less then 5 minutes where the passenger pick up is. Please note that the shuttle bus will take you to the exit of the cruise terminal. There the Escort driver will be waiting with your name on a sign.
Itinerary
Firenze
Firenze, FI, Italia
What's Included
Luxury, private air-conditioned vehicle.
English-speaking driver or escort guide.
Parking, highway tolls, fuel, all taxes and driver maintenance included.
Full Day – 9-1/2 hour tour
Pick up times available: 8:00am, 8:30 am, 9:00 am
Professional, English-speaking driver/guide
Private Air-Conditioned Luxury Vehicle
Free WiFi and Water on board
Drive through Tuscan hills to Florence
Visit to Florence
Not Included
Lunch can range from E10-E40-You will have time to explore the famous historical sites, have lunch in a traditional local restaurant, and shop along the chic shopping Boulevards consisting of store specializing in fine leather and jewelry
Gratuities ranging between 10-20 percent(optional but appreciated)
No admission to any sites
Museum entrance fees
Additional Information
For groups of more than 8 people from Livorno port and La Spezia Port we only provide multiple minivans with the maximum number of 8 people in each minivan. This is because minibuses are prohibited from entering the town center. Therefore, a waste of time will incur walking to the destinations, by minivans you will get to your destination directly without wasting time.