Excursion from Port
Cinque Terre Tour from La Spezia Port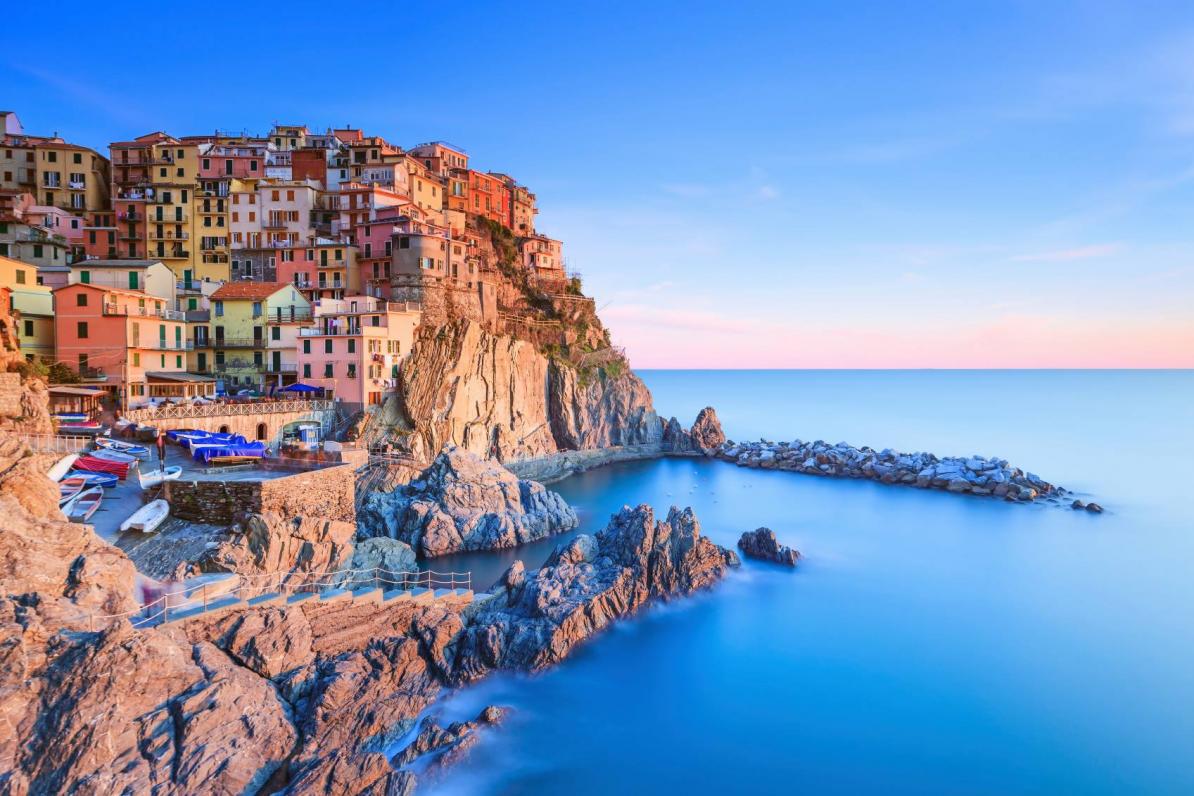 Overall Description
Cinque Terre
Cinque Terre is a string of centuries-old seaside villages on the rugged Italian Riviera coastline. In each of the 5 towns, they are filled with colorful houses and vineyards that cling to steep terraces, harbors are filled with fishing boats and family owned restaurants turn out seafood specialties along with the Liguria region's famous sauce and pesto. Many hiking trails links the villages and offers sweeping sea views.
ITINERARY
Tour Itinerary The day will start with a visit to the seaside village of Portovenere known as the gateway to the Cinque Terre National Park. Portovenere lies peacefully on the rocks in the west side of La Spezia Gulf known also as the "Gulf of Poets" due to its romantic and colorful architecture and landscapes. We are here in the region of Liguria where Portovenere (the smallest municipality in this region) together with the nearby islands of Palmaria, Tino and Tinettobecame in 1997 part of the Unesco World Heritage. You will have about 1 1/2 hours to visit this amazing town before heading to the first village of the Cinque Terre. We will the visit the villages of: Riomaggiore, Manarola, Cornigliaand Vernazza. As we head from one place to another we will be providing you all the information needed to explore this amazing National Park. You will have approximately 1 hour to visit each village and the driver will be waiting for you by the entrance of each village ready to take you to the next one! Notes: It is very important that you would wear comfortable shoes as the paths are steep! If you wish to have lunch in one of the local restaurants, the driver will be very happy to recommend you a good one and will reserve a table for you.  
Visit of Portovenere

Drive from Portovenere to Riomaggiore

Visit of 4 of the Cinque Terre villages

Drive from Riomaggiore to Manarola

Drive from Manarola to Corniglia

Drive from Corniglia to Vernazza
PRIVATE WALKING GUIDE:
Optional PRIVATE WALKING GUIDE: If you wish a professional walking guide to lead you from village to village (by foot), explaining the history and traditions of the area and helping you enjoy the best parts of this amazing national park, we highly recommend you this option. The cost for 3 hours is 230Euro / 5 hours is 300 Euro / 7 hours is 370Euro, to be added to the tour price. Notes: Ferry or train tickets must be purchased on site; cost not included.
Pick up time: 8 am or as for your confirmation.

Return time: 4-5pm or as for your confirmation.
PLEASE BE AWARE THAT WE RESERVE ALL RIGHTS TO CHANGE THE ORDER OF ITINERARY. IF NECESSARY AT OUR DISCRETION DUE TO NATURAL CAUSES (ENVIRONMENTAL) OR POLITICAL REASONS (STRIKE / PROTEST)
Each additional hour is at the cost of E50.
Transportation
One of our professional, knowledgeable English speaking driver guides will be at the gangway of the port at 8am with your name on a sign. Please note you will need to take a complimentary shuttle bus (do not take the shuttle bus going to the city. You want the one to La Spezia) less then 5 minutes where the passenger pick up is. Please note that the shuttle bus will take you to the exit of the cruise terminal. There the Escort driver will be waiting with your name on a sign.
Itinerary
Cinque Terre
Cinque Terre, SP, Italia
What's Included
Luxury, private air-conditioned vehicle.
English-speaking driver or escort guide.
Parking, highway tolls, fuel, all taxes and driver maintenance included.
Full day tour 9 hours
Round trip transportation from/to the port/ship
Comfortable air conditioning minivan
Professional tour guide-driver
English speaking driver
Visit of Portovenere
Drive from Portovenere to Riomaggiore
Visit of 4 of the Cinque Terre villages
Drive from Riomaggiore to Manarola
Drive from Manarola to Corniglia
Drive from Corniglia to Vernazza
Free wi-fi on board
Free water on board
Fuel, toll and taxes
Return to La Spezia Port by 5.00/5.30 pm
Not Included
Lunch and wine tasting E30-E35 per person to be paid directly on spot(optional)ask your driver to reserve a table if interested
Gratuities ranging between 10-20 percent(optional but appreciated)
No admission to any sites
Walking guide
Additional Information
For groups of more than 8 people from Livorno port and La Spezia Port we only provide multiple minivans with the maximum number of 8 people in each minivan. This is because minibuses are prohibited from entering the town center. Therefore, a waste of time will incur walking to the destinations, by minivans you will get to your destination directly without wasting time.